As business and industry propel forward everyday, waste is made and things become obsolete. That's just the way it goes. But, it's not an absolute. These industrial by-products are not always tossed aside; some are turning into the coolest stuff out there.
This past weekend I was walking through the Chelsea Market in NYC and came upon this sleek table that has a table base made from a repurposed – I don't actually know – a motor, maybe?
Chelsea Market, Manhattan, NY
Closer to my home I came upon a mailbox supported by an industrial tripod.
Village of Williamsville, NY
So the next time you cringe as you see a vinyl billboard being replaced, know that the old billboard may be snatched up as a painter's drop cloth. Wishful thinking? A Denver-based company called Repurposed Materials is giving new life to a wide variety of industrial by-products, including vinyl billboards and rubber conveyer belts (used as truck bed liners).
If you're looking for some industrial repurposing inspiration, here are some more cool repurposing ideas I've found around the web:
1. A porthole used as a laundry chute: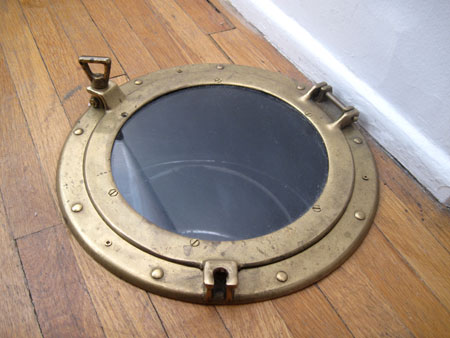 3. Dumpster Gardens:
I also saw a dumpster repurposed as a pool. Kind of gross but it did look very clean and refreshing.
Have you repursposed any industrial by-products? I'd love to see them!
Eve of Reduction: Free Seasonal E-Newsletter; Extra tips and wit on Facebook; Reduction Beauty on Pinterest ; The debut DIY lifestyle book (includes 10 upcycling tutorials); and the guide to creative streams of income ebook (only $2.99).