This should help us all remember Daylight Savings this weekend: really clever DIY clock projects from around the web.
Some people think that having a clock in view causes stress. I feel the opposite. Knowing the time helps me stay organized, punctual and balanced. I'm a big fan of clocks! And here are some interesting clocks that you can make yourself!
5 Clocks made from Repurposed Materials
1. Dominoes Clock from Astute Homestead. It's simply brilliant that the dominos replace the clock numbers, not just in position bt as a number alternative. Think about how avant garde you could get replacing numbers with dominos!
2. Recycled Container Clock from Zommo is a very cool reuse of old consumer packaging. For more upcycling ideas for consumer packaging check out my Upcycled Packaging Pinterest board!
3. Embroidery Hoop Clocks from Brit + Co come in handy when you want your clock to match the decor of your room.
4. This repurposed bike wheel clock is available for purchase from Etsy shop PixelThis. I think I need to make one of these for my garage this summer. I've been holding on to a bike wheel thinking I was going to use it in the garden, but this is WAY better!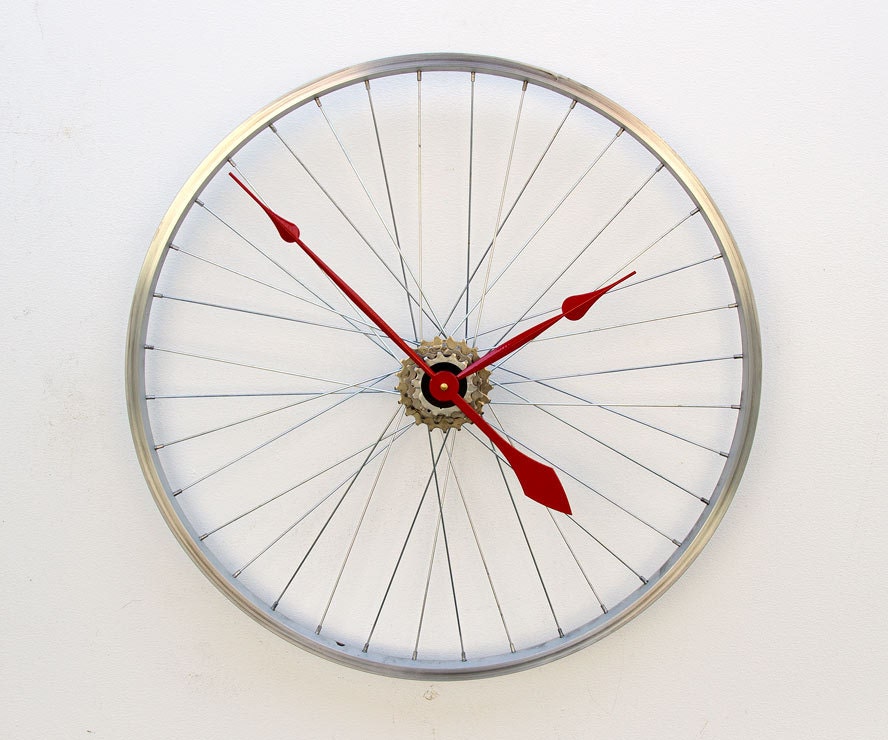 5.  I've seen some pretty crazy record clocks on Pinterest, but here's a beginner version that any DIYer could rock out. The tutorial can be found at Suite Revival.
A while back, Eve did a guest post from a woman who recycled food packaging to decorate a boring clock. You can check out her clock project here. To get started on repurposing something into a DIY clock, all you really need is a clock kit (aff. link) which costs under $5!
What would you repurpose to make a clock?
Eve of Reduction Free Seasonal E-Newsletter; Extra tips and wit on Facebook; Reduction Beauty on Pinterest 
The debut DIY home decor ebook Rooms Repurposed: A Purposeful Home, A Purposeful Life
The DIY lifestyle book (includes 10 upcycling tutorials); and the guide to creative streams of income ebook (only $2.99).